VirtaMed GynoS™
VirtaMed GynoS™ provides life-like gynecology training at no risk to live patients. It is the most realistic virtual-reality simulator for obstetric ultrasound, IUD insertion, embryo transfer, and hysteroscopy.
Ensure that your trainees reach a defined level of proficiency in ob/gyn before examining real patients. VirtaMed GynoS™ provides a structured training approach based on progressively more complex cases. Trainees learn to recognize pathologies and handle complications, while having the time to ask questions during procedures and reflect on findings. Through the use of original medical instruments, skills are directly transferable to clinical settings.
VirtaMed GynoS™ comes in 3 different platforms: Modular, portable and mini platform,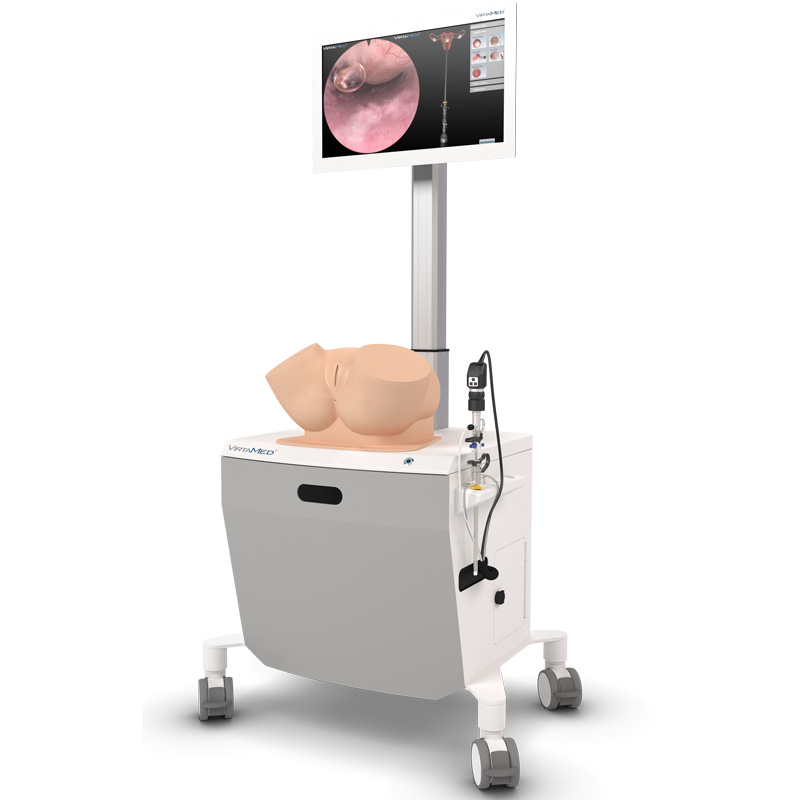 Intensify Clinical Training
Learn all fundamental OB/GYN skills and make the transfer to clinical settings seamless thanks to immersive photorealistic graphics and world-class haptic feedback.

Accelerate the educational journey. Benefit from expert-developed courses or create your own curriculum using a unique variety of cases.

Keep trainees motivated and engaged with online leader boards and a 24/7 access to training materials.
Support Better Patient Care
Prepare trainees for real-life scenarios with exposure to a wide range of cases and rare pathologies.

Help trainees identify learning goals and reach pre-defined standards using performance-based assessments.

Provide a risk-free training environment that allows for repeated practice of targeted skills.
Training modules for VirtaMed GynoS
1st Trimester Transvaginal Obstetric UltrasoundNEW
The realistic tactile sensation of the transvaginal probe facilitates the transfer of skills from the ultrasound simulator to the patient. Focusing on fetal ages between 5 and 12 weeks, clinicians learn to assess the viability of the 1st trimester fetus, including pregnancies of unknown location and ectopic pregnancies.
2nd Trimester Transabdominal Obstetric UltrasoundNEW
As the first simulator incorporating the 20+2 scanning protocol, the VirtaMed ultrasound simulator offers the most systematic approach to examining the first and second trimester fetus. Equipped with a proprietary probe that allows for a free navigation across the entire abdomen, the simulator experience is as close to real life settings as possible. Clinicians can practice across over 100 cases, various fetal positions, different placenta locations, and doppler imaging. Fetal ages range between 10-26 weeks.
Embryo Transfer
The Embryo Transfer simulator is used for training in embryo transfer in In Vitro Fertilization and Intrauterine Insemination, both under and without ultrasound guidance. The simulator combines an anatomically correct pelvic model, original Wallace® and Cook Guardia™ catheters, and a proprietary transabdominal probe. Training cases are based on real patient ultrasound images and include interchangeable unique uteri / cervix models: straight, bent, and tortuous cervical canal, canal with false passage, and a retroverted uterus. The simulator accommodates the three transfer techniques, as defined by the ASRM: afterload, transfer with trial, and transfer without trial.
IUD Placement
A diversity training cases teach doctors how to safely insert intra-uterine devices (IUDs) in anteverted or retroverted uteri, along with nulliparous or parous patient cases. Repeatable cases help trainees to quickly master the relevant motor skills while safely handling and correctly placing the inserts. Again, the patient comfort scale gives immediate feedback on the safety and quality of the procedure. Outside views and ghost tools guide the trainee during the first placements. Afterwards, unguided procedures are recorded and can be looked at for debriefing.
Hysteroscopy
Accelerate student learning with a variety of pathologies and cases at all difficulty levels. GynoS™ hysteroscopy offers on-demand, comprehensive, and risk-free endoscopy training where students use original medical instruments to treat virtual fibroids, establish uterine distension, clear viewing conditions, and how to safely handle loop electrode and rollerball for resection, coagulation, and endometrial ablation. For the more experienced learner, there are patients with more serious gynecological pathologies, including multiple polyps, intramural fibroids, uterine adhesions, or a septum. In the risk-free environment provided by simulation, more advanced endoscopic techniques can also be trained. For example, reducing the fluid inflow leads to a reduction of uterine distension, allowing the intramural parts of fibroids naturally to expand into the cavity for easier resection.